Here, past meets present...Pueblos and cliff dwellings so well preserved it's hard to believe their builders moved on 700 years ago...Amid lava and cinder one can imagine a landscape still hot to the touch. Welcome to the Flagstaff Area National Monuments!

There is something for every one: prehistoric cliff dwellings at Walnut Canyon, the mountain scenery and geology of Sunset Crater Volcano, and the painted desert landscape and masonry pueblos of Wupatki National Monument.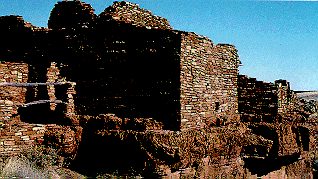 Less than 800 years ago, a large agricultural community spread across this volcanic plateau. The warm, arid climate and sparse vegetation today make the successes of these pueblo farmers remarkable. Here you'll see stunning artistry in masonry pueblos that emerge from bedrock to stand several stories high.

Arizona does not observe daylight savings. You are on Mountain Standard Time. Leave Flagstaff with a full tank of gas and food as there are no services at the monuments.
ACREAGE:

Federal: 35,253

VISITATION:


ADDRESS:

Superintendent
Wupatki National Monument
HC33 Box444A
Flagstaff, Arizona 86004

TELEPHONE:

520/679-2365

OPERATING HOURS AND SEASONS:

The park is open year round. The Visitor Center is open daily (except Christmas Day) from 8:00 a.m. to 5:00 p.m. with extended hours possible during the summer season. The ruins are open dawn-to-dusk.

CLIMATE, RECOMMENDED CLOTHING:

Be prepared for variable and extreme weather conditions. Expect windy afternoons spring, summer, and fall. Summer daytime temperatures can exceed 100 degrees. Short afternoon thunderstorms are common July through September. Autumn days are warm and mild, winter days are cool with occasional freezing temperatures. Snow can occur but usually doesn't last long.

DIRECTIONS:

From Flagstaff, take US 89 north for 12 miles (19km), turn right at sign for Sunset Crater Volcano - Wupatki National Monuments. The visitor center is 21miles (34km) from this junction.

Road construction on US 89 between Flagstaff and Sunset Crater Volcano/Wupatki road is scheduled to begin summer 1997; delays should be minimal.

TRANSPORTATION:

To Park: by personal vehicle or tour bus. Nearest commercial airport is located in Flagstaff, Arizona.
In Park: Personal Vehicle, biking, hiking.

ACCESSIBILITY

The Visitor Center and Wupatki Ruin Trail, to the overlook, are accessible. Accessible restrooms are at Doney Mountain picnic area and Lomaki Ruin.

FEES:

Entrance fees that include both Wupatki and Sunset Crater Volcano are $3 per person (age 16 and under free). Golden Eagle, Golden Age, and Golden Access Passports are accepted. Commercial tour fees are charged according to vehicle capacity: 1-6: $30, 7-25: $45, 26 or more: $100. Fees are collected at Sunset Crater Volcano.

FACILITIES AND OPPORTUNITIES:

There are picnic areas, but no other services in the monument. Vending machines are located behind the Visitor Center.

No camping or overnight parking. U.S. Forest Service and private campgrounds are located in and around Flagstaff.

Overnight accommodations, food, supplies, and gasoline are available in Flagstaff (33 miles/53 km). Flagstaff Visitor Center: 1-800-842-7293.

RESERVATIONS / PERMITS:

None.

BASIC VISIT RECOMMENDATIONS:

Allow 2 hours to see five prehistoric pueblos; or, at least 30 minutes to visit the largest - Wupatki Pueblo, located behind the Visitor Center - and to view museum exhibits.

SPECIAL EVENTS / PROGRAMS:

Visitor Center/Exhibits:

The Visitor Center has museum exhibits and educational materials for sale.

Trails:

Wupatki Ruins Trail: at the visitor center, is a self-guided tour of the largest pueblo in the Flagstaff area and includes a ball court and amphitheater. Don't miss the blowhole, a fascinating geologic feature. The trail is less than 1/2 mile (.8 km) round trip. The pueblo can also be viewed from an overlook (100 yards).

Lomaki Ruins Trail is a 1/2 mile (.8 km) easy walk with access to several pueblos. Other ruins: Wukoki, Citadel, and Nalakihu have short (.2 mile, .4 km) paved trails.

Doney Mountain Trail, signed "View Point and Lunch Area," ascends from the picnic area to the top of the mountain (.5 mile, .8 km) for spectacular views of the surrounding area.

Hiking is restricted to established trails only. The backcountry of Wupatki is closed to hiking to protect fragile archeological sites.

Driving Tours:

Much of Wupatki and Sunset Crater Volcano can be experienced by driving the loop road connecting the parks to US 89. Travelling from the south, stops include Bonito Park (for a view of Sunset Crater Volcano), Sunset Crater Visitor Center, Bonito Lava Flow pull-out, Cinder Hills Viewpoint, the Painted Desert Vista and overlooks, Wupatki Visitor Center with access to the major pueblo, and Donney Mountain viewpoint.

Programs, Activities:

There are no scheduled programs; however, during the summer months rangers are stationed at the major sites to help you experience and understand the significance of Wupatki. They also may be available for programs upon request.

Lodging and Camping Facilities:

None

Food and Supplies:

None inside the monument.

VISITOR IMPACTS:

Pets are not allowed in buildings, on trails, or tied to fixed objects. They may be exercised in parking areas on a leash. Summer temperatures may be fatal to pets in closed vehicles.